Come with me – And you'll be…
In a world of pure imagination!!!!!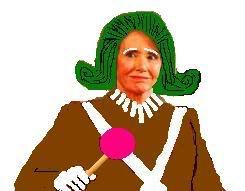 Oompa loompa Pelosi doo
I've got another puzzle for you
Oompa loompa Pelosi dee
If you're a fool you'll listen to me
Why did you stay on the house chamber floor?
I left long ago on my whirlwind book tour.
I don't care if we need cheaper gas.
The America people can just kiss… my… ass!
I am al-ways better than you!
Oompa loompa Pelosi dare,
If you're not smart then you just will not care.
You will live in ignorance `cause,
The Oompa Loompa Pelosi does!