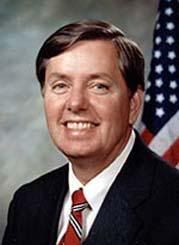 I finally received a response from Senator Lindsey Graham to my
letter regarding the "Gang of Ten"

It is safe to say that I am not very satisfied with the letter, however, I will note that Senator Graham has been and is on the campaign trail for John McCain and may not have had time to specifically address my concerns. I just hope he doesn't continue that attitude around election time.
Here is the letter he sent: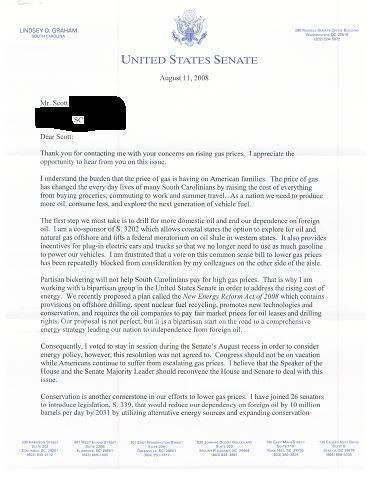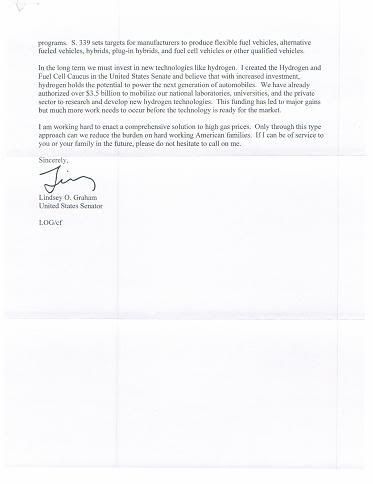 The text of the letter follows:
Dear Scott:
Thank you for contacting me with your concerns on rising gas prices I appreciate the opportunity to hear from you on this issue.
I understand the burden that the price of gas is having on American families. The price of gas has changed the every day lives of many South Carolinians by raising the cost of everything from buying groceries, commuting to work and summer travel. As a nation we need to produce more oil, consume less, and explore the next generation of vehicle fuel.
The first step we must take is to drill for more domestic oil and end our dependence on foreign oil. I am a co-sponsor of S. 3202 which allows coastal states the option to explore for oil and natural gas offshore and lifts a federal moratorium on oil shale in western states. It also provides incentives for plug-in electric cars and trucks so that we no longer need to use as much gasoline to power our vehicles. I am frustrated that a vote on this common sense bill to lower gas prices has been repeatedly blocked from consideration by my colleagues on the other side of the aisle.
Partisan bickering will not help South Carolinians pay for high gas prices. That is why I am working with a bipartisan group in the United States Senate in order to address the rising cost of energy. We recently proposed a plan called the New Energy Reform Act of 2008 which contains provisions on offshore drilling, spent nuclear fuel recycling, promotes new technologies and conservation, and requires the oil companies to pay fair market prices for oil leases and drilling rights. Our proposal is not perfect, but it is a bipartisan start on the road to a comprehensive energy strategy leading our nation to independence from foreign oil.
Consequently, I voted to stay in session during the Senate's August recess in order to consider energy policy, however, this resolution was not agreed to. Congress should not be on vacation while Americans continue to suffer from escalating gas prices. I believe that the Speaker of the House and the Senate Majority Leader should reconvene the House and Senate to deal with this issue.
Conservation is another cornerstone in our efforts to lower gas prices. I have joined 26 senators to introduce legislation, S. 339, that would reduce our dependency on foreign oil by 10 million barrels per day by 2031 by utilizing alternative energy sources and expanding conservation programs. S. 339 sets targets for manufacturers to produce flexible fuel vehicles, alternative fueled vehicles, hybrids, plug-in hybrids, and fuel cell vehicles or other qualified vehicles.
In the long term we must invest in new technologies like hydrogen. I created the Hydrogen and Fuel Cell Caucus in the United States Senate and believe that with increased investment, hydrogen holds the potential to power the next generation of automobiles.
We have already authorized over $3.5 billion to mobilize our national laboratories, universities, and the private sector to research and develop new hydrogen technologies. This funding has led to major gains but much more work needs to occur before the technology is ready for the market.
I am working hard to enact a comprehensive solution to high gas prices. Only through this type approach can we reduce the burden on hard working American families. If I can be of service to you or your family in the future, please do not hesitate to call on mc.
Sincerely,
Lindsey 0. Graham
United States Senator
LOG/cf