Here we go again, folks…
And this was at a CHRISTIAN school?!!??!???!!!???
Surely the Ten Commandments and prayer were allowed there. Will our kids be safe at any school anymore? Maybe home schooling is the best way to go.
Christian High School Teachers Sent 16 Year Old Student Text Messages Soliciting Group Sex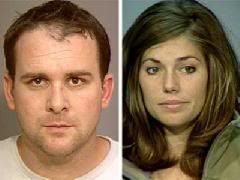 >Justin and Amy Northcutt<

Two former Turlock Christian School teachers accused of sending sexually explicit cell phone messages to a 16-year-old female student will face criminal charges, the Stanislaus County district attorney's office said Tuesday.

The suspects -- Amy Northcutt, 26, and Justin Northcutt, 27 -- are married. They were arrested in early June, shortly after the school year ended. They are accused of sending messages and photos to arrange group sex with the girl, said Sheriff's Department spokesman Royjindar Singh.

The Northcutts are scheduled to be arraigned Sept. 3.

The district attorney's office could not specify what charges they will face, and the court did not yet have information Tuesday on the charges.

The Northcutts were arrested June 2 on suspicion of distribution or exhibition of lewd material to a minor and annoying or molesting a child under 18, Singh said. They could not be reached for comment Tuesday.

Singh said investigators have not found evidence of other victims.

The teachers were told not to contact Turlock Christian parents and students or come onto school property, according to a letter from Superintendent Jack Mayer to school parents, dated July 10.

Amy Northcutt was the girl's high school teacher, Singh said. She taught history and had submitted her resignation a month before school ended in late May, according to Mayer. Justin Northcutt was a substitute teacher at Turlock Christian's junior high and high schools, he said.

Neither had any previous disciplinary problems at the school, Mayer said.

"We notified the parents just because we felt it was the right thing to do," Mayer said.

The girl's mother contacted authorities after Justin Northcutt was spotted talking to the alleged victim while she attended a family gathering in Denair, Singh said. The arrests came days later.

Justin Northcutt was released from jail in lieu of $25,000 bail. Amy Northcutt was released in lieu of $10,000 bail.

Turlock Christian School is a private, interdenominational Christian school with about 800 students in preschool through 12th grade, according to its web site.