On June 12th, do your part to save the planet from Al Gore!!!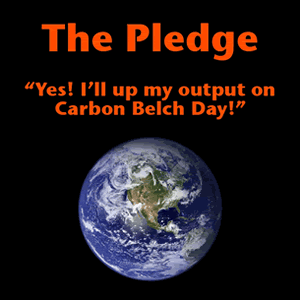 On June 12, Grassfire is calling on people around the globe to do their part to save the planet by unleashing a healthy Carbon Belch. There's so much you can do to increase your carbon footprint on Carbon Belch Day -- mow your lawn, go for a drive, gather neighbors for a barbecue. In fact, there's something for everyone. It's never been so easy to do your part. Simply complete
THIS FORM.

Say "Yes" to Carbon Belch Day. As an option, you can also join with tens of thousands of citizens who have signed our online petition opposing Al Gore's climate alarmism and the coming $1.2 trillion Carbon Tax.
Grassfire's Pledge to you is this… We are pretty confident that by taking the Carbon Belch Day pledge you will have at least as much of an impact on Al Gore's "planetary emergency" as you would have if you followed any of the goofy "Green" mandates like "turn off your lights day", and you'll have more fun! So complete
the form below and join Carbon Belch Day!

And something really fun….
Climate Alarmists have created dozens of websites to help you calculate your carbon footprint -- all as a basis for you feeling even more guilty about being a human being who is desecrating the planet in the 21st century (and maybe you'll buy some carbon credits).Well, Grassfire put all those calculations (along with the "official" government calculator at the EPA) to some good use and developed aCarbon Belch Calculator. Grassfire has identified 21 things you can do to increase your Carbon Belch. It's easy. It's fun. And it's all for the lofty goal of saving the planet.
You can calculate your belch with the
Carbon BELCH Calculator

It's about time someone stood up and did this!!!!!!!!