TONY SNOW, FORMER WHITE HOUSE PRESS SECRETARY AND FOX NEWS ANCHOR, DIES AT 53

Tony Snow, the former White House press secretary and conservative pundit who bedeviled the press corps and charmed millions as a FOX News television and radio host, has died after a long bout with cancer. He was 53.
A syndicated columnist, editor, TV anchor, radio show host and musician, Snow worked in nearly every medium in a career that spanned more than 30 years.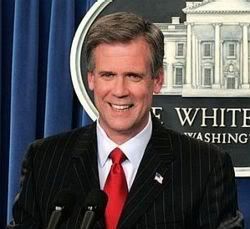 "The White House has lost a great friend and a great colleague," said President Bush's press secretary Dana Perino. "We all loved watching him at the podium, but most of all we learned how to love our families and treat each other."
Snow joined FOX in 1996 as the original anchor of "FOX News Sunday" and hosted "Weekend Live" and a radio program, "The Tony Snow Show," before departing in 2006. A sometime fill-in host for Rush Limbaugh, Snow said he loved the intimacy of his radio audience.
"It's a tremendous loss for us who knew him, but it's also a loss for the country," Roger Ailes, chairman of FOX News, said Saturday morning about Snow, calling him a "renaissance man."
As a TV pundit and commentator for FOX News, Snow was often critical of President Bush before he became Bush's third press secretary in 2006, following Ari Fleischer and Scott McClellan. He was an instant study in the job, mastering the position — and the White House press corps — with apparent ease.
During a tenure marked by friendly jousting with journalists, Snow often danced around the press corps, occasionally correcting their grammar and speech even as he responded to their questions.
"Tony did his job with more flair than almost any press secretary before him," said William McGurn, Bush's former chief speechwriter. "He loved the give-and-take. But that was possible only because Tony was a man of substance who had real beliefs and principles that he was more than able to defend."
As he announced Snow as his new press secretary in 2006, President Bush praised him as "a man of courage [and] a man of integrity." Snow presided over some of the toughest fights of Bush's presidency, defending the administration during the Iraq war and the CIA leak investigation.
Robert Anthony Snow was born June 1, 1955, in Berea, Ky., the son of a teacher and nurse. He graduated from Davidson College in 1977 with a bachelor's degree in philosophy, and he taught briefly in Kenya before embarking on his career as a journalist.
Because of his love for writing, Snow took a job as an editorial writer for the Greensboro Record in North Carolina and went on to run the editorial pages at the Newport News (Virginia) Daily Press, Detroit News and Washington Times. He became a nationally syndicated columnist, and in 1991 he became director of speechwriting for President George H.W. Bush.
Snow had his colon removed and underwent six months of chemotherapy after he was diagnosed with colon cancer in 2005. In 2007, he announced that his cancer had recurred and spread to his liver. He resigned from the White House weeks later and was replaced by his deputy, Dana Perino.
After taking time off to recuperate, Snow joined CNN as a conservative political correspondent early this year.
Snow is survived by his wife, Jill Ellen Walker, whom he married in 1987, and their son, Robbie, and daughters, Kendell and Christie.
On a personal note:
Tony Snow is a hero of mine. His life was one that showed all the positives of living…even when he was fighting cancer! My heart goes out to his family as I pray that God will give them strength to endure this great loss. The world is a far better place because of Tony Snow.